Aberdeen boxer backs bus safety campaign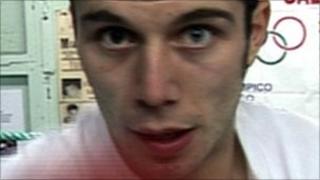 Successful Aberdeen boxer Lee McAllister is backing a school bus safety drive in the north east of Scotland.
The Commonwealth lightweight champion will be on board a school bus at Ellon Academy to make sure all pupils are wearing seatbelts.
The "Aberdeen Assassin" was himself badly hurt in a road accident in 2004.
He said: "My daughter is nearly two and knows already that she has to wear a seatbelt. I am behind this campaign."
The campaign is part of the 1second1life campaign, which was established by Aberdeenshire Council, Grampian Police, and Talisman last year.
Peter Argyle, chairman of Aberdeenshire Council's infrastructure services committee, said: "We take the responsibility of pupil safety while travelling on school transport provided by the council extremely seriously and we will make every effort to ensure that transport is as safe as possible.
"Recently councillors decided that any bus awarded a contract by the council for school transport must be fitted with seatbelts and it's fantastic to have the support of a local sporting star to help reinforce the importance of wearing them."
Leslie Harrold, road safety manager at Grampian Police, added: "It is our priority to do all we can to promote safety when travelling, particularly when children and young people are involved.
"Grampian Police is firmly behind the campaign and over the next few months our road safety advisors will be boarding buses prior to them leaving the school to warn pupils about the dangers of not wearing a seatbelt.
"With Lee's support we hope that this new campaign will be a great success."