Molecule 'aids breast cancer hope' say scientists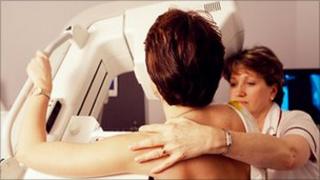 Breast cancer survival rates could be improved by the discovery of a new molecule, scientists have said.
The University of Aberdeen experts said the molecule in breast cancer cells could help identify the best treatment.
They claim women found to have this molecule - serpin B3 - could be treated with a more aggressive form of chemotherapy as it may protect cells.
The findings are the result of a 12-month study of 250 women being treated for breast cancer in Aberdeen.
Dr Elaina Collie-Duguid, lead researcher in the study, said: "This is a major finding which could ultimately increase the survival rates from breast cancer by allowing identification of the type of chemotherapy which is likely to be most effective in individual patients.
"Testing for the presence of serpin B3 could result in patients found to have this cancer molecule being treated with the more aggressive of the most effective chemotherapy drugs - Taxanes.
"Although Taxanes have more severe side effects than other chemotherapy drugs, they are more likely to have a higher success rate in killing off the cancer cells in patients found to host this molecule."
Scientists will now repeat the study on a larger group of breast cancer patients.
It is hoped their findings, if confirmed, could be used in clinical practice within the next two years.
Death rates
The findings are being announced by at the British Breast Cancer Research Conference in Nottingham on Wednesday.
Thousands of women are diagnosed with breast cancer in the UK each year.
A report in the British Medical Journal last month said Scotland had seen one of Europe's biggest falls in death rates from breast cancer.
The number of deaths from the disease had dropped 30%.