Murder accused mother remanded in custody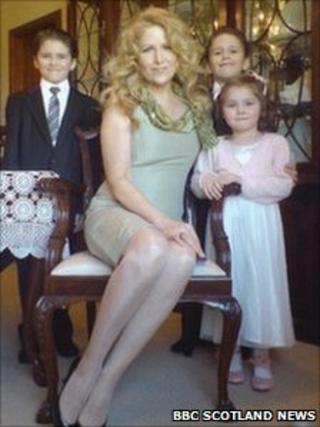 A woman who is accused of murdering her three children has been remanded in custody after an assessment order was revoked.
Twins Austin and Luke Riggi, eight, and their sister Cecilia, five, were found dead in Edinburgh on 4 August, after moving from Skene, Aberdeenshire.
Theresa Riggi, 46, was later charged with murder.
Mrs Riggi, who has been in hospital since, appeared at Edinburgh Sheriff Court for a review of the order.
California-born Mrs Riggi - who was found badly hurt after the incident - had an arm and leg in plaster, and was walking with the aid of a crutch.
No further dates for the case have yet been set.
The children were found in a flat in Edinburgh's Slateford Road.
She faced the murder charges at a special hearing in private at Edinburgh Royal Infirmary on 24 August.
The court made an assessment order detaining Mrs Riggi in hospital.
A funeral service for the three children was held last month in Aberdeen.
Their father Pasquale Riggi had earlier described them as a "beautiful blessing".