Wife makes plea over pensioner injury mystery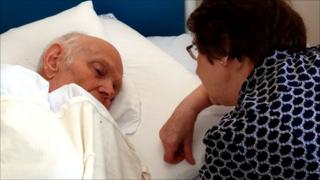 The wife of a 79-year-old man found badly injured outside his Aberdeenshire home has made a fresh plea for information to end the mystery.
Sandy Ingram, 79, who lives in a remote location in Newmachar, was found with head injuries in June.
He had gone to investigate a sighting of two men in the grounds of his home, and has been in hospital since.
Wife Ann said: "We still don't know what happened to Sandy, despite the best efforts of all concerned."
She explained: "Sandy is still in a hospital bed - he has improved slightly since he was admitted but he is still very poorly, unable to do anything for himself or speak.
"There is no doubt our lives have changed completely since he went out that night simply to find out why those men were at our house.
"I see him every day and tell him what's happening but I'm afraid his response, even on a good day, is limited to a slight gesture or a frustrated attempt at a word or two.
"I'm sure he understands what I'm saying but he just can't get the words out."
Mrs Ingram added: "I'd urge anyone who knows anything about this to contact the police and pass on any information they have."
'Decent thing'
Mr Ingram was injured late on Saturday 19 June.
Grampian Police Det Insp Richie Guild, who is leading the inquiry, said: "We are still investigating various lines of inquiry and would appeal to anyone who has knowledge of this tragic event to come forward.
"At least two people know exactly what happened that night but unfortunately it would appear that until now they haven't had it in them to do the decent thing and tell us.
"I would like to appeal directly to these people to come forward now and tell us what happened."
He added: "Sandy and his family have a right to know how he came by his injuries that night."
One of the two men seen in the grounds was described as wearing a light-coloured baseball cap, possibly green, with a darker peak.
The other was described as wearing dark clothing and had dark, almost shoulder-length, hair.