Golf thousands donated to Glencraft factory in Aberdeen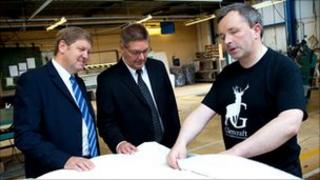 An Aberdeen furniture workshop which employs staff with disabilities has been given a £30,000 donation to buy a new delivery van.
Glencraft closed last year with the loss of 51 jobs.
However oil firm Production Services Network (PSN) stepped in and sought Scottish government support to breath new life into the factory.
The Aberdeen Oilman's Golf Association (AOGA) donated the £30,000 from its annual charity golf tournament.
Pat Sibille, chairman of AOGA, said: "Each year we identify a charity or cause to support and this year Glencraft stood out to the committee as a worthy recipient.
"The business provides vital employment to many blind and disabled workers and the quality and standard of the beds and mattresses that these craftsmen and women produce is second to none.
"We are delighted to have been able to make this contribution and would encourage the wider Aberdeen business community to do what they can to help Glencraft to become a thriving local business."
Colin Middler, a Glencraft employee, said: "The support we receive means so much to each and every one of us that works at Glencraft.
"This is an incredible and very kind donation and I want to extend our immense thanks to the committee members and everyone who was involved in the AOGA annual event."