Greenpeace protesters swim in front of oil ship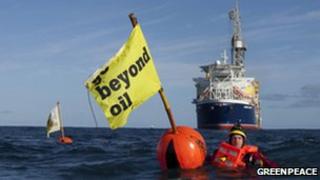 Activists who were ordered off the anchor of a drill ship off Shetland are involved in a stand-off with the boat.
Greenpeace protesters have been swimming in front of the Stena Carron since lunchtime on Sunday to stop it heading to the Lagavulin oil field.
They had spent four days dangling off the vessel's anchor to stop it drilling a well but a court order on Friday forced them to leave on safety grounds.
They are now taking it in turns to surround the Chevron-owned ship.
The group plans to put "waves of swimmers", wearing drysuits, and kayaks in the ship's path for "as long as we can".
Chevron said the latest phase of the campaign was "extremely dangerous", and the activists have been asked to move by the Coastguard.
A statement from Ben Stewart, one of the Greenpeace activists who was in the water, said he was determined to stop the Stena Carron from reaching deep water.
He added: "It shouldn't be down to people bobbing in the water in front of ships to stop the insane rush for the last drops of oil in ever more dangerous and difficult to reach places."
The ship had to stop sailing when the protesters were spotted in the water on Saturday.
The protest first started on Tuesday, when activists started dangling off the vessel's anchor in a pod to stop it drilling a well.
A spokesman for Chevron North Sea said: "This latest act is extremely dangerous and once again demonstrates that Greenpeace is willing to put its volunteers at risk by entering the path of the Stena Carron while the vessel is in transit.
"Chevron is concerned for the safety of those involved and, while we acknowledge and respect the right of Greenpeace to express its views by peaceful and lawful action, we condemn activities that put people at risk."