'Best case' needed for future of Moray RAF bases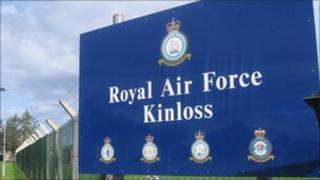 The Scottish secretary has said the "best possible case" must be put for retaining the RAF bases at Lossiemouth and Kinloss.
Michael Moore was speaking after touring both the Moray bases as the government's strategic defence review continues.
It has been speculated the review - the results of which will be announced soon - could mean major cutbacks.
Mr Moore said he understood the depth of feeling in Moray.
He told BBC Scotland: "It was important to me to be in Kinloss and Lossiemouth and see the extraordinary commitment of the personnel and the broader importance for the community.
"What I am determined to do is ensure we make the best possible case for the bases."
Campaigners against the plan have said such a move would be an "economic catastrophe" locally.
They are particularly worried about the possible scrapping of the Tornado fleet or the new Nimrod surveillance plane project.
A report by Highlands and Islands Enterprise (HIE), published in August, said almost 6,000 people relied on the RAF for jobs, and that one in 10 of the area's school pupils were from a service family.
The report also found the stations contributed £160m to the local economy.