Future of RAF Kinloss Nimrods 'hangs in balance'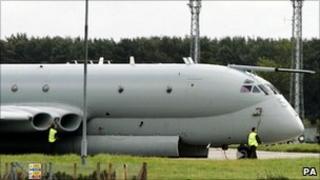 The future of RAF Kinloss and its Nimrod fleet "hangs in the balance", Moray MP Angus Robertson has said.
It comes after a letter from Defence Secretary Liam Fox to Prime Minister David Cameron was leaked to the media.
In it, he drew attention to the damage that could be done to the UK's military and search and rescue capabilities if the Nimrod fleet at Kinloss was lost.
Mr Robertson - the SNP's defence spokesman - said it did not make sense to lose such a versatile aircraft.
The results of the government's strategic defence review will be announced soon.
Mr Robertson told BBC Scotland that the Nimrods' future was hanging in the balance and stressed: "Anyone who knows anything about the Nimrod knows that their reach and capability is unsurpassed."