Service for oil industry chaplain Reverend Andrew Jolly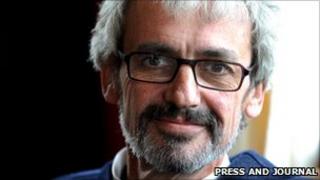 A service of thanksgiving has been held after the death of the chaplain for the UK's oil and gas industry.
The Reverend Andrew Jolly, 54, who led memorials after the North Sea helicopter disaster last year, died after a long battle against cancer.
The service was held at the Kirk of St Nicholas Uniting in Aberdeen, after a private funeral.
More than 500 people attended the service, including local politicians and oil and gas industry leaders.
Mr Jolly conducted a special service in Aberdeen after the Super Puma crash which killed 16 men in April 2009 and also prayers on the first anniversary.
The Aberdeen-born married father-of-two took up the offshore post in 2006 after many years as an Army and RAF chaplain, where he saw service in Iraq, Saudi Arabia, Northern Ireland and the Falkland Islands.
After his death, First Minister Alex Salmond said: "Andrew Jolly will be greatly missed. We hope that the high regard in which Andrew was held across the community will be of comfort to his friends and family at this sad time."
The Aberdeen Oil Industry Chaplaincy Trust said in a statement: "His deep respect for and passionate commitment to his unique ministry were apparent to all."
Malcolm Webb, chief executive of industry body Oil and Gas UK, said: "The personal and professional contribution he has made to the lives of all of us working in this industry is immeasurable."
And the Reverend John Christie, moderator of the General Assembly of the Church of Scotland, said: "A man of deep faith, he is remembered for both his wisdom and counsel."