Chevron gets Lagavulin drilling clearance off Shetland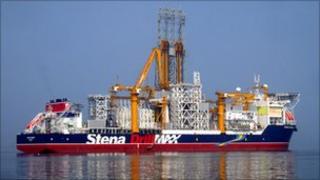 Oil firm Chevron has received government consent to drill an exploration well to evaluate a controversial prospect off Shetland.
The deep-water Lagavulin prospect is 160 miles north of the islands.
Greenpeace activists earlier prevented the drill ship Stena Carron reaching the area by attaching themselves to the anchor, and then by swimming nearby.
Chevron welcomed the ruling, but Greenpeace branded the government "irresponsible".
A Chevron spokesperson said: "We welcome this decision and are grateful to the UK government for the confidence they are placing in us and our ability to drill deep water wells safely and without environmental harm."
Greenpeace is opposed to new deep-water drilling, pointing to the BP disaster in the Gulf of Mexico.
Executive director John Sauven said: "A government claiming to be the greenest ever should be taking us beyond oil."
A court order has banned activists from interfering with the Stena Carron's progress.