Girl completes charity walk inspired by brave mother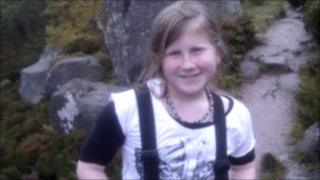 A girl inspired to complete a cancer charity walk after her mother turned down chemotherapy while pregnant has successfully raised hundreds of pounds.
Nine-year-old Megan Love's mother Vanessa, of Westhill, Aberdeenshire, is now clear of leukaemia after giving birth to twin boys in 2005.
Megan did a 10-mile Lochnagar walk on Sunday with her father Charlie for Cancer Research UK.
She has raised £780 but donations can still be made as she aims for £1,000.
Her fundraising page is at www.justgiving.com/megan-love.
Mrs Love turned down chemotherapy, to protect her unborn babies, despite the risks to herself.
She then began her chemotherapy after Blake and Rohan were born.
The boys started school in August.
Megan said of her mother: "She's all clear and making the most of life.
"She's a great mum and an inspiration to me."
Mr Love said: "Megan did really well, she kept going.
"She was helped by regular chocolate breaks."
Mrs Love said of Megan's effort: "I am very proud of Meg."