Murder appeal delayed over judge who jailed father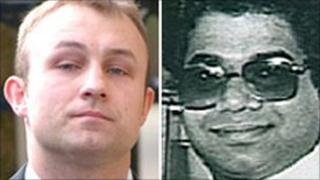 A man's attempt to overturn his conviction for the murder of a waiter on Orkney has been postponed due to a judge mix-up.
Former Black Watch sniper Michael Ross was 15 when Shamsuddin Mahmood, 26, was shot in the head in Kirkwall's Mumataz Restaurant in June 1994.
He was sentenced to a minimum of 25 years after being found guilty in 2008.
A new hearing will now be set, as a judge at the Court of Criminal Appeal once jailed Ross's father.
Lord MacLean had sentenced Eddie Ross, who had been a police officer on the island, to four years in prison in 1997 for attempting to pervert the course of justice in the aftermath of the shooting.
The charge was that he withheld information from investigating officers over ammunition he found in his own home.
It resembled the cartridge used to kill the waiter.
His convicted killer son, latterly of Inverness, has always maintained his innocence.
Chris Shead, counsel for Ross in the murder appeal, said he did not object to Lord MacLean being one of the appeal judges.
But Lord Justice Clerk, Lord Gill, ruled: "We consider it for the best that the case should be heard by a differently constituted court."
Fled from dock
No date has been fixed for a new hearing.
Much of the appeal rests on criticism of the way Lord Hardie conducted the trial and remarks he made to the jury during its closing stages.
Ross is also contesting the 25-year minimum sentence.
He fled from the dock at the High Court in Glasgow after a jury found him guilty but was soon caught by a court official and police.
A weapons cache was found in a car park after the escape bid and Ross was later jailed for a further five years.
Mr Mahmood, born in Bangladesh, was shot in full view of a room full of diners, including families with children, by a masked gunman.