Cancer charity walk girl Megan reaches £1,000 target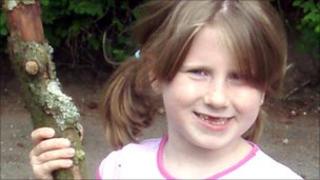 A girl inspired to complete a cancer charity walk after her mother turned down chemotherapy while pregnant has reached her £1,000 target.
Nine-year-old Megan Love's mother Vanessa, of Westhill, Aberdeenshire, is now clear of leukaemia after giving birth to twin boys in 2005.
Megan did a 10-mile Lochnagar walk on Sunday with her father Charlie for Cancer Research UK.
She had raised £780, but a fresh BBC appeal has taken her past £1,000.
Mrs Love turned down chemotherapy to protect the unborn babies, despite the risks it posed to herself.
She then began her chemotherapy treatment after Blake and Rohan were safely born.
The twins started school in August.
Megan said of her mother: "She's a inspiration to me."
Mr Love said: "She is absolutely overjoyed to have reached her target. I am so incredibly proud of her. Vanessa is too."
Her fundraising page is still open for more donations at www.justgiving.com/megan-love.
Someone called The Couch Potato whose £10 donation took Megan over her target figure wrote: "Had to take you over your target. Well done on your achievement."