Trump brushes aside 'degree of protest' over honour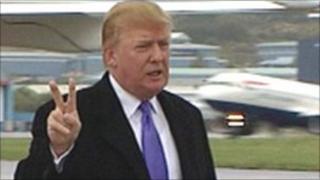 US tycoon Donald Trump has brushed aside protests about getting an honorary degree from a university.
Aberdeen's Robert Gordon University (RGU) is due to present Mr Trump with the honorary award of Doctor of Business Administration on Friday.
Mr Trump's plans to build the "world's greatest golf course" in Aberdeenshire have proven divisive in the north east.
The degree has sparked protests, but Mr Trump said on his arrival in Aberdeen: "Everybody has their opinion."
He added: "It's a great university and a great honour."
Meanwhile, the Tripping Up Trump campaign group said it would hand over a 6,500-strong petition to RGU on Wednesday afternoon asking the university to retract the award.
A former principal of RGU last week handed back an honorary degree in protest at the similar award being given to Mr Trump.
Dr David Kennedy, principal of RGU between 1987-97, said he was "appalled" at plans to honour the businessman.
The university said the honour recognised his "business acumen" and his company's commitment to the north east of Scotland.
Disrupt plans
Work on Mr Trump's controversial golf course got under way earlier this year.
The billionaire believes the total cost of the project is likely to be about £750m.
However, some residents object to the plans and are refusing to sell their land to the billionaire.
Many opponents of the development have bought a stake in a one-acre stretch of land at the heart of the resort site in a bid to disrupt it.
As well as a championship golf course, the luxury development on the Menie Estate includes a 450-bedroom hotel, 950 holiday apartments and 500 residential homes.