Aberdeen footballers' Pope remarks removed from website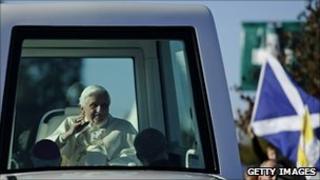 Insulting comments posted by two Aberdeen footballers at the time of the Pope's Scottish visit have been removed from a social networking site.
Zander Diamond said on Facebook that the Pontiff was "running over Prods in his Popemobile".
Michael Paton reportedly said "Gees a shot o popemobile...sort out these prodies."
An AFC spokesman said the matter was dealt with internally, the comments removed and the players spoken to.