Aberdeen baby murder accused 'could be volatile'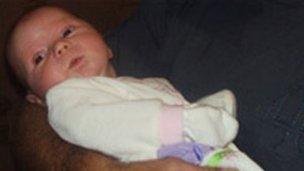 The former partner of a man accused of murdering her sister's six-week-old baby girl in Aberdeen has told a court he could be "aggressive".
Mark Simpson, 29, denies murdering Alexis Matheson by assaulting her between 8 November and 9 December 2007.
He allegedly seized hold of her, shook her and compressed her chest, leaving her so severely injured that she died.
Amanda Neish, the sister of the baby's mother, told the High Court in Aberdeen Mr Simpson had been "volatile".
Ms Neish, 36, told the second day of the trial she had got into a relationship with Mr Simpson and that he was "charming".
She said she fell pregnant with Mr Simpson's baby, who was "over the moon" at the prospect of becoming a father.
But she said his demeanour changed, and he accused her of having an affair.
She said she was "shocked" when she later learned he was in a relationship with her younger sister Ilona.
Ms Neish said: "I was shocked and I was scared for her and Alexis."
Paul Neish, 18, the nephew of baby Alexis's mother, said the accused said the child was being fed, but then her eyes were rolled back and she was not breathing.
He admitted telling police that Mr Simpson had said he had shaken her to waken her to try to make her breathe.
The baby died after being taken to hospital in Edinburgh.
The case, which is scheduled to last several weeks, continues.
Related Internet Links
The BBC is not responsible for the content of external sites.