Norwegian skipper fined £20,000 over North Sea mackerel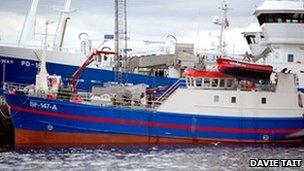 A Norwegian fishing skipper who admitted trying to smuggle more than 70 tonnes of mackerel out of EU waters has been fined £20,000 in Shetland.
Buefjord was leaving the UK-controlled part of the North Sea last Friday when it was boarded by the authorities.
Frode Kjempenes, 43, had declared he had his remaining quota of 55 tonnes of mackerel on board when he had more than 125 tonnes in the hold.
The case was heard at Lerwick Sheriff Court.
Meanwhile a report is being prepared for the procurator fiscal on a second Norwegian fishing vessel that was escorted into Lerwick at the weekend.
Related Internet Links
The BBC is not responsible for the content of external sites.