'Progress' made in EU mackerel wrangle talks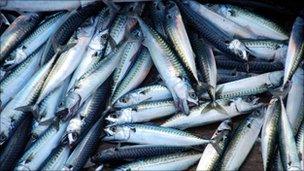 Scottish fishing leaders have said progress has been made in talks aimed at settling the mackerel dispute.
Skippers from Iceland and the Faroes Islands caused outrage by recently setting their own controversial quotas.
Delegates from the EU, Norway, Iceland and the Faroes met in London this week to try to resolve the row.
The talks broke up on Thursday without resolution but they will get back around the table at the end of the month for further discussions.
Ian Gatt, president of the Scottish Pelagic Fishermen's Association, told BBC Scotland: "It's disappointing that the talks have concluded and there's been no resolution.
"What we have been told is progress has been made and there's been enough progress to warrant another set of talks."
Mackerel is the most valuable stock to the Scottish fishing industry, bringing £135m into the economy last year.
Traditionally Iceland landed very little, but fishermen there say stocks have moved further north into their waters.
This year the country set its own quota at 130,000 tonnes. The Faroe Islands also increased their quota from 25,000 to 85,000 tonnes.
Fishermen from Scotland and Norway say those quotas threaten future stocks.
Both have already been warned they could face sanctions over the issue.
The Faroese fishing boat Jupiter was prevented from landing its £400,000 catch at Peterhead in August after being confronted by fishermen angry over the quotas.
Related Internet Links
The BBC is not responsible for the content of external sites.