People 'could clean public toilets' to save money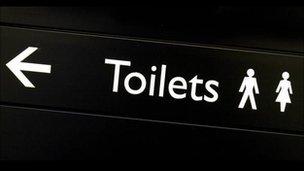 People in Moray could be asked to clean their own public toilets.
It is one of the options being considered by the local authority in a bid to make millions of pounds of budget cuts.
Other proposals include shutting swimming pools, community centres and reducing spending on roads maintenance.
A Moray Council spokesman said it was not a draft budget but a series of options on which the administration wants to gauge public opinion.
The money-saving options which will be consulted on include asking communities to clean their own public toilets, or closing them altogether.
Shutting schools could save up to £2m, although there are no details of which could be affected.
Lossiemouth and Speyside swimming pools could face closure. Council officers have warned this could have a "significant impact" on local users, school use and swim clubs.
Museums, community halls and town halls could also shut.
Money could also be saved by cutting rural bus services, and scaling down grass cutting and roads maintenance, including gritting.
Staff will be given details of the options later this month and a public consultation will begin.
Related Internet Links
The BBC is not responsible for the content of external sites.