Aberdeen baby murder accused 'destructive'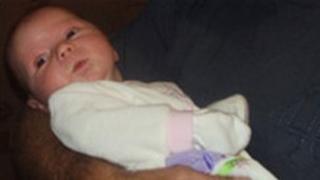 The ex-partner of a man accused of murdering his girlfriend's baby split up with him because he was "destructive" in her home during a heated row, a court has heard.
Linda Middleton was Mark Simpson's partner for two-and-a-half years.
Mr Simpson, 29, denies murdering Alexis Matheson by assaulting her in Aberdeen between 8 November and 9 December 2007.
He allegedly seized hold of her, shook her and compressed her chest, leaving her so severely injured that she died.
The High Court in Aberdeen heard that Ms Middleton and Mr Simpson, who met on the internet, separated following an argument at her home.
The 45-year-old mother-of-three told the court: "We had a really good relationship. We spent a lot of time together.
"We didn't go out a lot but we spent a lot of time with my kids. We had our arguments like anybody else."
Advocate depute Ian McSporran asked: "Was there a particular reason for your relationship ending?"
She replied: "We had an argument and it got slightly heated and he was a bit destructive in my home and we ended it after that."
Mrs Middleton said she had kept in touch with Mr Simpson after they split up.
She told the court she was aware he was later in relationships with sisters Amanda Neish, 36, then Ilona Sheach, then 18.
Mrs Middleton said he "seemed happy" with Ilona.
The court heard that Mr Simpson was signed off work with depression in the weeks leading up to baby Alexis' death.
His former next-door neighbour, Annette Matheson, 48, told the court she could hear arguments at his Northfield home before the baby was born in October.
Mr McSporran asked: "Were there any problems next door?"
She replied: "We could hear there was arguments.
Asked who the arguments involved, she replied: "It could be anyone who was in the house. They would be having parties or whatever before the baby was born.
"It often ended up in arguments."
'Family problems'
Ms Matheson said Mr Simpson could often be "dour" but was excited about the baby's arrival and seemed to perk up.
Former boss Cyril Wallace, 65, said there were "extreme" problems with Mr Simpson's work attendance in 2007.
He said the binman was off sick for a number of weeks between September and November.
Mr Wallace said: "On this occasion , Mr Simpson told me it was due to depression brought on by family problems."
On another occasion, Mr Simpson worked for two hours then "basically walked off the job". His career with the council was said to be a litany of sickness and unauthorised leave.
The trial is scheduled to last several weeks.