Task force to fight for Moray RAF jobs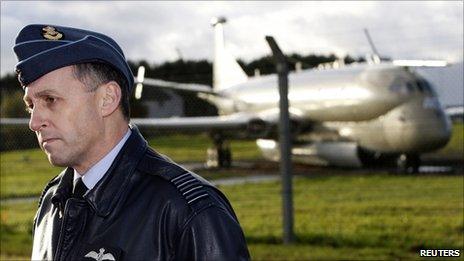 A task force has been set up to fight for the future of thousands of jobs in Moray, in the wake of the RAF defence cuts.
The UK government announced on Tuesday it had cancelled the Nimrod replacement, effectively meaning the closure of RAF Kinloss.
A final decision has not yet been taken about RAF Lossiemouth.
Local politicians and business leaders met in Elgin and agreed on a campaign of action.
Moray's two RAF bases contribute more than £150m to the local economy annually and support 5,700 jobs, according to a report in August by consultants hired by Highlands and Islands Enterprise (HIE).
It is thought that a decision on the future of the RAF base, which is home to Tornado squadrons, could be taken within a month.
Prime Minister David Cameron said that as a result of the cancellation of the Nimrod replacement, RAF Kinloss would no longer be required.
RAF Kinloss station commander Group Captain James Johnston said there had been disbelief when the announcement was made.
It is understood that the Ministry of Defence could retain the site and may eventually use it as a barracks for soldiers returning from Germany.
Defence sources say the troops would not arrive until about 2015 at the earliest.
It has been feared that the Tornado aircraft currently based at RAF Lossiemouth could be transferred to RAF Marham.
Related Internet Links
The BBC is not responsible for the content of external sites.