Mother 'was charged over her baby's death' in Aberdeen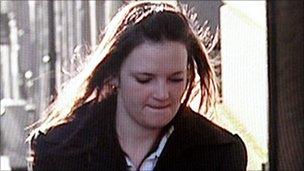 A mother whose baby was allegedly murdered by her then boyfriend was charged over the death after police bugged their home, a court has heard.
Six-week-old Alexis Matheson was allegedly murdered by Mark Simpson, 29, in 2007 in Aberdeen.
Defence counsel Herbert Kerrigan QC told the High Court in Aberdeen police started spying on the couple.
The baby's mother Illona Sheach, 21, said she was shocked to be charged in 2008 with murder.
The eighth day of the trial heard that police began surveillance on Ms Sheach and her then partner Mr Simpson at their house in the Northfield area of the city just days after Alexis's death.
Mr Kerrigan asked Ms Sheach: "Did you know that the police were spying on you in your home from about the 11th of December until a device was removed on the 18th of February?"
She replied: "No, I didn't."
Mr Kerrigan asked: "During that time I take it that you never made any admissions of having done anything to Alexis that caused her death?"
She replied: "I would never have harmed my baby. I would have no reason to make an admission of something I never did."
Mr Kerrigan asked: "I take it over that period of time, while the conversations were being recorded, Mark Simpson never said anything to you that made you think your baby had been harmed in any way? Is that correct?"
Mr Kerrigan asked her of being charged: "I take it that came as a horrendous shock to you that you were charged in that manner?"
She replied: "Of course."
Mr Simpson denies murdering Alexis by assaulting her in Aberdeen between 8 November and 9 December 2007.
He allegedly seized hold of her, shook her and compressed her chest, leaving her so severely injured that she died.
The trial, which is scheduled to last several weeks, continues.
Related Internet Links
The BBC is not responsible for the content of external sites.