Helicopter task group head honoured after disaster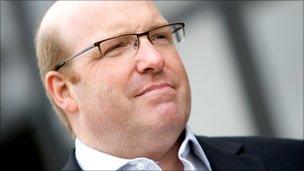 The chairman of the task group set up after a Super Puma helicopter crashed in the North Sea, killing 16 men, has received an offshore safety award.
Bob Keiller, chief executive of oil and gas firm PSN, has been honoured by the International Regulators Forum.
The Helicopter Task Group was set up in April last year, a week after the Bond helicopter crashed.
Mr Keiller said: "I dedicate it to the 16 men who so tragically lost their lives, and of course their families."
Robert Paterson, industry body Oil and Gas UK's health, safety and employment issues director, said: "This award is a fitting tribute to the great leadership Bob displayed in his role as chair of the group, which achieved a number of real safety improvements to offshore aviation.
"Everyone in the oil and gas industry really appreciates the work Bob put in to make these safety improvements actually happen."
The 14 passengers and two crew on board the helicopter lost their lives on 1 April last year when it came down in the North Sea.
Eight of the victims came from the north east of Scotland, seven from the rest of the UK, and one from Latvia.
The initial report into the crash found that the aircraft suffered a "catastrophic gearbox failure", resulting in "detachment of the main rotor assembly".
Related Internet Links
The BBC is not responsible for the content of external sites.