Man jailed for grooming 'teenager'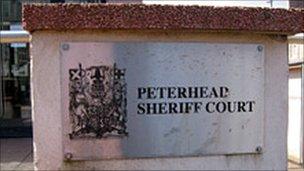 A man caught grooming a girl he thought was 14-years-old has been jailed.
Richard Bennett, 32, of St Fergus, admitted breaching the Protection of Children and Prevention of Sexual Offences (Scotland) Act 2005.
The girl Bennett thought he was talking to was actually a police officer posing online as a youth as part of a clampdown to snare internet predators.
Bennett, a farmer, was jailed for eight months and was placed on the sex offenders register for 10 years.
In her sentencing statement Sheriff Marysia Lewis imposed an extended sentence of 20 months on the first offender, meaning Bennett will be under licence for another 12 months after his release from jail.
She said: "It is clear that you make use of the internet for the purpose of chatting to others and through this medium you came in contact with an individual whom you believed to be a young girl.
"Communication took place over a four-month period and at an early stage this person revealed information to the effect that she was a 14-year-old girl.
"Initially the content of the emails were innocuous but you continued to send messages to her and they became sexual in nature."
He was caught as part of a Scottish Crime and Drug Enforcement Agency (SCDEA) investigation.
Det Insp Keith McDevitt, head of e-crime at the SCDEA, said: "Richard Bennett used the internet as a way of contacting young girls.
"He believed the internet was providing a cover for his predatory behaviour.
"But this case should send a very clear message to other individuals who are using the internet for this type of criminal activity that law enforcement is also using the internet as a tool to identify who they are."
Related Internet Links
The BBC is not responsible for the content of external sites.