'Murdered' baby's paternity was 'in doubt'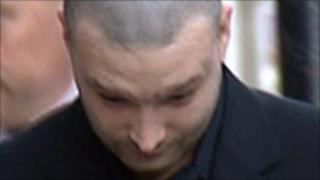 A mother claimed her sister's ex-boyfriend, accused of murdering her baby, could have been the father, a court has heard.
Six-week-old Alexis Matheson was allegedly murdered by Mark Simpson, 29, in 2007 in Aberdeen.
The baby's mother, Illona Sheach, began a relationship with Mr Simpson not long after he split up with her sister Amanda Neish.
She told the High Court in Aberdeen she now knew he was not the father.
Ms Neish was pregnant with Mr Simpson's child when they separated.
The ninth day of the trial heard Ms Sheach left a letter on her mother's pillow.
The letter said: "I know that dad and you and everybody else will probably be totally annoyed and start shouting at me.
"I've been keeping a big secret from you all and I don't want Amanda to know. The truth is Alexis might be Mark's.
"Something might have happened between us when we met up in town. I'm not certain though because of the drink I had."
Ms Sheach said she did not want to hurt her family but she wanted to be with him.
And she offered to move out of her mother's flat and live with him at his Deansloch Crescent home to make it easier for her family.
Defence counsel Herbert Kerrigan QC asked: "In that you give an indication that Mark might be the father of your child?"
Ms Sheach, 21, replied: "I know that he is not. The only reason I can think of why I would have said that was for my mum to accept me and Mark being together and to make it easier for my mum."
Previously the jury heard evidence from her previous partner, Robert McCall, who said he had taken a paternity test to confirm he was the baby's father.
Mr Simpson denies murdering Alexis by assaulting her in Aberdeen between 8 November and 9 December 2007.
He allegedly seized hold of her, shook her and compressed her chest, leaving her so severely injured that she died.
The trial, which is scheduled to last several weeks, continues.