MP demands clarity on RAF Lossiemouth future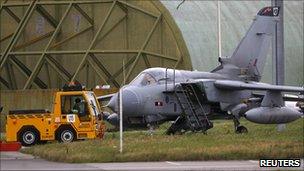 An MP has demanded clarity over leaked documents which suggested RAF Lossiemouth in Moray could be run down over the next year.
The papers, seen by SNP Moray MP Angus Robertson, are said to imply the base's Tornado fleet would be transferred.
Mr Robertson raised a point of order in the Commons on Monday.
He later said: "It would be intolerable if it emerged the prime minister was in fact aware of plans to centralise Tornado forces to Norfolk all along."
Mr Robertson asked the Speaker of the House if the MoD had said when an official confirmation would be made, but was told the answer was no.
There has been mounting speculation that all Tornado operations could be moved from Lossiemouth to RAF Marham, where engineering work for the aircraft is already based.
The Ministry of Defence has insisted no final decision has been made, and that it did not comment on "leaked documents".
Nearby RAF Kinloss will effectively close after ministers cancelled orders for the new Nimrod MRA4 surveillance aircraft.
It has been suggested that the base could be retained as a barracks for soldiers returning from Germany.
Defence sources have already said the troops would not arrive until about 2015 at the earliest.
Moray's two RAF bases contribute more than £150m to the local economy annually and support about 5,700 jobs, a report said earlier this year.
Related Internet Links
The BBC is not responsible for the content of external sites.