Baby murder trial couple 'showed no emotion'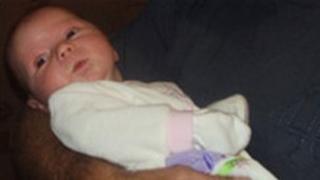 A nurse has told a murder trial a baby girl's mother and her partner showed no emotion when they were told of the seriousness of her condition.
Six-week-old Alexis Matheson was allegedly murdered by Mark Simpson, 29, in 2007 in Aberdeen.
Staff nurse Jacqueline Rose was with doctors when they told the child's mother, Illona Sheach, and her partner, Mark Simpson, of the baby's injuries.
She told the High Court in Aberdeen it struck her that they showed no emotion.
The 11th day of the trial heard a scan had shown that Alexis had suffered brain haemorrhages and a fractured skull.
Mrs Rose, a staff nurse at Royal Aberdeen Children's Hospital, told the court families were usually upset or angry and asked many questions.
She said Ms Sheach sat staring at the floor and Mr Simpson sat staring at her.
The nurse said Ms Sheach's mother asked if the fractured skull was because of a bang to the head.
Ms Sheach said that was not possible, as no-one had hurt Alexis.
No effect
Consultant neurosurgeon Ioannis Fouyas said a scan on the baby showed she had probably suffered a number of brain injuries.
He said he carried out surgery on the girl to try to relieve pressure on her brain, but the operation had no effect.
Mr Simpson denies murdering Alexis by assaulting her in Aberdeen between 8 November and 9 December 2007.
He allegedly seized hold of her, shook her and compressed her chest, leaving her so severely injured that she died.
The trial, which is scheduled to last several weeks, continues.