Expenses pursued from Trump objection pensioner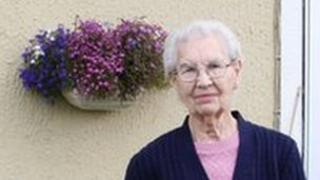 The Trump Organisation is seeking expenses from a pensioner who has abandoned a legal challenge over its golf scheme.
US tycoon Donald Trump hopes to build the "world's greatest golf resort" at Menie, north of Aberdeen.
Molly Forbes, 86, raised judicial review proceedings at the Court of Session but has now dropped her case.
The Trump Organisation and Aberdeenshire Council moved that expenses should be awarded.
Her counsel, Andrew Smith QC, told the court in Edinburgh she had given an undertaking that she would not raise fresh proceedings on the same issues.
He added: "This is finished for her."
Eugene Creally, for the council, said: "The principle must follow that the cost of litigation should fall on him or her who has caused it."
Roy Martin QC, for the Trump organisation, said they were entitled to have the proceedings which Mrs Forbes chose to bring against them decided "irrespective of emotion".
Judge Lord Kinclaven said he wished time to consider issues surrounding the case.
'Playing games'
The Trump Organisation later said Mrs Forbes had been manipulated by campaigners, expenses were a normal part of the court process, and there were "consequences to playing games with the Scottish judicial system".
Mrs Forbes told BBC Scotland she had not been manipulated by campaigners, and would not be paying the court expenses of her opponents.
Work on Mr Trump's golf course development got under way earlier this year.
The billionaire has said the total cost of the project is likely to be about £750m.
Some residents object to the plans, and have refused to sell their land.
Many opponents of the development have bought a stake in a one-acre stretch of land at the heart of the resort site in a bid to disrupt it.
As well as a championship golf course, the development includes a 450-room hotel, 950 holiday apartments and 500 residential homes.