Stoat found on Orkney released back on mainland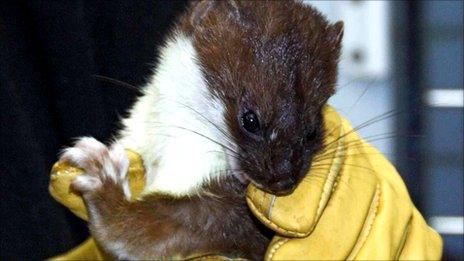 A stoat that somehow found its way to Orkney has been released back on the mainland.
Stoats are non-native to Orkney but recent sightings of the small wild mammal sparked fears for the rare wild bird population.
The first stoat to be found, an adult male, was caught as part of a Scottish SPCA and Scottish Natural Heritage relocation project.
It was taken to a wildlife rescue centre in Fife and then released.
Scottish SPCA senior inspector Mike Lynch said: "The stoat was terrified and shaking when I first saw him, probably never having had any contact with humans before."
Wildlife rescue centre manager Colin Seddon said: "After a health check and some feeding we are satisfied that the stoat is fully fit and ready for release.
"The release site has been specially selected because it provides a suitable habitat and prey for stoats without adversely affecting the local eco-system."
Gail Churchill, from SNH, added: "It is far from certain how the stoats have managed to reach Orkney, but it could be through deliberate release or accidentally, for example, with one or more stoats arriving in a load of imported hay."
Further stoat sightings on Orkney can be reported to the Scottish SPCA Animal Helpline on 03000 999 999 or SNH's Orkney office on 01856 875 302.
Related Internet Links
The BBC is not responsible for the content of external sites.