Pensioner liable for Donald Trump golf court expenses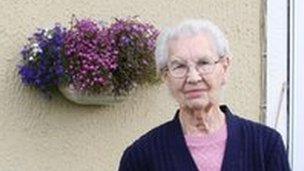 A pensioner who has dropped a legal challenge to the Donald Trump golf plan has been found liable for court expenses.
US tycoon Mr Trump hopes to build the "world's greatest golf resort" at Menie, north of Aberdeen.
Molly Forbes, 86, raised judicial review proceedings at the Court of Session but has dropped her case.
A judge has ruled Trump International Golf Links and Aberdeenshire Council were entitled to expenses.
Lord Kinclaven said: "On the information before me the appropriate course is to find the petitioner (Mrs Forbes) liable in expenses to date.
"There is no good reason for withholding that finding."
The judge said that the motions for an award by the local authority and golf developer were "irresistible".
But he said the court did not have to pass decree for immediate payment and he was prepared to allow Mrs Forbes an opportunity to make further submissions on modification of her liability for expenses.
Andrew Smith QC, for Mrs Forbes, earlier told the court: "Mrs Forbes couldn't afford to meet any award of expenses."
Trump International Scotland said in a statement: "It is regrettable that an elderly woman has been used to front this frivolous court action.
"There are consequences for filing a baseless claim and her son and lawyers should pay the expenses."
A spokesman for Aberdeenshire Council said: "The court has fixed a further hearing for 11 January at which Mrs Forbes will be allowed to seek to have these expenses modified if her Legal Aid position has been resolved.
"The court has wide discretion regarding expenses and may modify her liability to nil, or otherwise limit the amount recoverable.
"Any decision on action to be taken by the council to enforce the award against Mrs Forbes before that hearing would therefore be premature."
Work on Mr Trump's golf course development got under way earlier this year.
The billionaire has said the total cost of the project is likely to be about £750m.
Some residents object to the plans, and have refused to sell their land.
Many opponents of the development have bought a stake in a one-acre stretch of land at the heart of the resort site in a bid to disrupt it.
As well as a championship golf course, the development includes a 450-room hotel, 950 holiday apartments and 500 residential homes.
Related Internet Links
The BBC is not responsible for the content of external sites.