Passions run high over Aberdeen's £127m cuts plan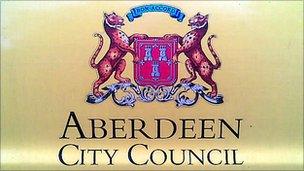 Passions ran high at the first in a series of public meetings about Aberdeen City Council's five-year plan to make £127m of savings.
Council leader John Stewart faced questioning from residents who attended on Wednesday night.
Issues including spending on the controversial Union Terrace Gardens project were among those on the agenda.
Mr Stewart said the authority was listening to concerns, but stressed a balanced budget was needed.
Detailed plans aimed at saving the £127.4m were unveiled earlier this week.
School, library and park closures, outsourcing care services and increasing parking charges were among the 750 options for cuts.
The plans will go to the finance and resources committee on 2 December then the full council on 15 December.
The biggest planned cuts are in the education, culture and sport budget, where a figure of £47m forms 37% of the total savings.
The report stated that £48m of the potential savings had been "highlighted as having a high implementation risk".
Closing all parks and gardens are among the proposals, along with closing some schools and community libraries, and making school staffing changes.
There is also a plan to generate money through a tax on all hotel beds in the city.
Online comments from the public are wanted on the city council's website where questionnaires and more details are available.
Related Internet Links
The BBC is not responsible for the content of external sites.