Task force to meet over future of Moray RAF bases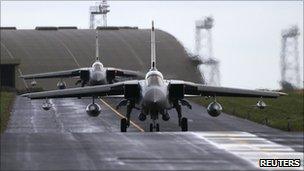 The task force set up to fight for Moray's defence jobs is due to meet to discuss progress of its submission to the MoD about RAF Lossiemouth.
RAF Kinloss is set to effectively close after the order for new Nimrods was cancelled, and there are growing fears for the future of Lossiemouth.
It is thought the base could lose its Tornado fleet to RAF Marham.
The submission will outline detailed defence, economic and social arguments for retaining RAF Lossiemouth.
It is due to be handed to the Defence Secretary Liam Fox early next month.
Calum MacPherson, of Highlands and Islands Enterprise, who is leading the task force delivery team, said: "More than one week on and we have had no further information from the MoD about their plans which could have an impact on one in every five jobs in Moray.
"As a task force we are putting together the strongest possible arguments for the retention of the Tornado squadrons in Moray, and we will continue to press for answers for the community and businesses in the area.
"The First Minister Alex Salmond has said that the campaign here is a matter of national importance and the task force is working to ensure that our concerns are heard at Scottish and UK levels."
Scottish Secretary Michael Moore, speaking in the Commons earlier this week, promised help would be provided to the local area but insisted no final decision had been made.
Later, during prime minister's questions, David Cameron denied accusations of concentrating defence spending in the south of England.
It is feared the base's Tornado fleet could be transferred to RAF Marham in Norfolk, where engineering work for the aircraft is already based.
It has been suggested RAF Kinloss could be retained as a barracks for soldiers returning from Germany.
Defence sources have already said the troops would not arrive until about 2015 at the earliest.
Moray's two RAF bases contribute more than £150m to the local economy annually and support about 5,700 jobs, a report said earlier this year.
Related Internet Links
The BBC is not responsible for the content of external sites.