Peterhead prisoners refused vote ban compensation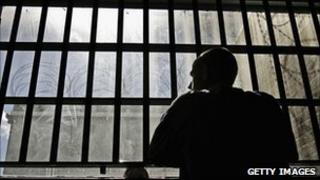 Two sex offenders held at Peterhead Prison who were prevented from voting in European elections have had their claim for compensation rejected.
Robert Greens and another unidentified inmate had taken their case to the European Court of Human Rights.
The court agreed the prisoners' rights had been "infringed", but did not award them any damages.
UK law currently prevents prisoners from voting, although ministers have accepted the law must be changed.
The European Court has given the UK government six months to amend the current laws.
Robert Greens, who was convicted of raping a Dutch student at Rosslyn Chapel near Edinburgh in 2005, and another prisoner, referred to as MT, were refused the vote in the 2008 European Parliament elections.
The issue stems from a case brought by convicted killer John Hirst, who challenged the view that prisoners be denied the right to vote.
'Just satisfaction'
He took the case to the European Court of Human Rights in March 2004.
It ruled then that the British government was in breach of the European Convention on Human Rights.
Ministers appealed to the European Court's grand chamber, but in October 2005 it upheld the ruling.
The government has been warned that failure to comply with the change could lead to the court re-examining 2,500 similar cases.
Law officers have also pointed out that as Scottish elections are due next May, a wave of new applications to the court could be made.
In their ruling, judges said it was a "cause for regret" that in the five years since the Hirst ruling, no amending measures had been brought forward by the UK government.
They added: "The court notes that it will be for the United Kingdom government in due course to implement such measures as it considers appropriate to fulfil its obligations to secure the right to vote in compliance with this judgment.
"In the circumstances, it considers that this may be regarded as providing the applicant with just satisfaction for the breach in this case."
Despite refusing the prisoners compensation, the court did order the state to pay the applicants 5,000 euros to cover costs and expenses.