New energy supply base for Orkney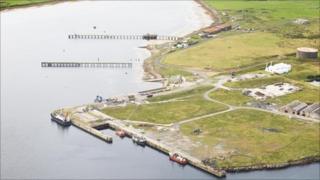 A major service and supply base for the energy sector is to be built in Orkney.
The facility, to be developed by maritime firm Fendercare Marine Solutions, will be sited at the former naval base at Lyness on the island of Hoy.
It comes after The Crown Estate, which owns the seabed, awarded the first round of commercial wave and tidal leases for the region in March.
The project is expected to be operational by March 2011.
Fendercare Marine Solutions said the base would ensure local support for energy operations, including deployment and mooring of wave and tidal devices.
Since seabed leases were granted earlier this year, plans are now in place to install hundreds of marine energy devices on 11 sites in the Pentland Firth and Orkney Waters leasing area.
Their planned capacity by 2020, at 1.6 gigawatts, could supply three-quarters of a million homes.
'Industrial land'
Fendercare spokesman Tim Smith said: "We have decided to develop in Lyness to establish a geographically central facility as marine energy accelerates towards major commercial build-out activity, with Orkney in the global vanguard.
"It is a multi-million pound investment over the course of the project and means developers and installers of marine devices can easily access expert services and save a good deal of time and money through having specialised stock held locally instead of at Aberdeen or elsewhere."
The Norfolk-based company, which carries out ship-to-ship transfer and other oil and gas-related activity in Orkney, expects to sign a ground lease for the one-hectare base at Lyness.
Landowners Orkney Islands Council are in the process of upgrading the former wartime base's two large quays to provide 4.5 hectares of industrial land.
Councillor Jim Foubister, chairman of Orkney Marine Services, said: "We are very pleased that Fendercare has chosen to have a presence at Lyness and are looking forward to the catalytic effect their base will bring to the facilities there and to the renewables industry in and about Orkney waters."