'Not sufficient' evidence to convict baby accused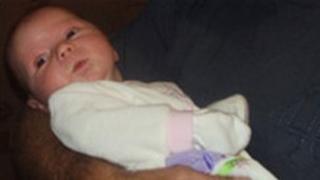 The jury in the case of a man accused of murdering a six-week-old baby girl in Aberdeen has been told there is insufficient evidence to convict.
Mark Simpson, 29, denies murdering his then-girlfriend's daughter Alexis Matheson by assaulting her in 2007.
Defence counsel Herbert Kerrigan QC said in his closing speech murder had to be proved beyond reasonable doubt.
He said there was no sufficient corroborating evidence to say Mr Simpson even assaulted the baby.
Mr Kerrigan said only one person had admitted in evidence to shaking the baby, and that was the staff nurse who tried to save her.
He said Alexis suffered from a range of conditions including weakened ribs which indicated that, while there had been trauma, there had been no intentional injury to the baby.
Mr Kerrigan also pointed to evidence from a friend of the baby's mother Ilona Sheach who had visited the couple at home.
She had spoken of Ms Sheach holding the baby in an inappropriate manner.
Acquittal submission
He said he was not indicating any guilt on Ms Sheach's part, or any deliberate attempt to hurt the child, but said it provided a clear indication of possible accidental injury when Mr Simpson was not present.
He said it provided so much doubt as it perhaps pointed the jury in the direction of a not proven or not guilty verdict.
The jury is now expected to be charged by the judge on Thursday before retiring to reach a verdict.
Mr Kerrigan was speaking after advocate depute Iain McSporran, for the Crown, finished his submission to the jury on Tuesday.
Mr McSporran had urged the jury to convict Mr Simpson due to what he described as his "wicked recklessness".
The long-running trial at the High Court in Aberdeen began on 12 October.
Mr Simpson denies murdering Alexis by assaulting her between 8 November and 9 December 2007.
He allegedly seized hold of her, shook her and compressed her chest, leaving her so severely injured that she died.
Mr Simpson has claimed during the trial the baby's mother Illona Sheach played a game called "fishy" where she lay on the floor and held Alexis above her.
He said Ms Sheach regularly shook the baby without supporting her head.
However Ms Sheach said she would not have done anything to harm her child.