'Crucial' talks over mackerel quotas wrangle held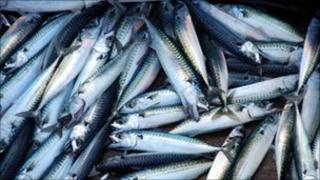 Fresh and "crucial" talks aimed at settling the ongoing mackerel quotas wrangle - which has infuriated Scottish fishermen - are being held.
Officials from the EU, Norway, Iceland and the Faroes have been trying to agree a deal on catch limits for 2011.
Iceland and the Faroes earlier sparked outrage by unilaterally setting mackerel quotas in their own waters.
Previous talks ended without agreement and now new talks are being held in Oslo.
Ian Gatt, chief executive of the Scottish Pelagic Fishermen's Association, said the talks provided the final chance to try to reach agreement this year.
He warned that failure to agree a deal would fuel uncertainty in the Scottish mackerel fleet over the amount of fish they would be allowed to catch next year.
Mr Gatt said: "This is the last opportunity this year to try to strike a deal for the 2011 fishery.
"Our fishermen have complex and challenging businesses to run and failure to reach agreement this week will result in great anxiety and make it very difficult for skippers to plan ahead.
"Any deal must ensure that mackerel is harvested at sustainable levels whilst at the same time protecting the rights of those who have traditionally fished for mackerel in the north east Atlantic.
"The future of an extremely valuable natural resource is at stake during these talks and it is vital that any agreement does not jeopardise our rightful share of the fishery."
'Vital stock'
Scottish Fisheries Secretary Richard Lochhead said: "These complex and marathon negotiations are continuing and no matter how long it takes we must remain focused on the outcome, which is the sustainable management of the mackerel fishery for next year and beyond.
"Our priority remains a new four-way agreement to protect a vital mackerel stock that Scotland, Norway and the EU have managed sustainably.
"We will not do a deal at any price and must not send out the message that the setting of huge unilateral quotas will be rewarded."
Scottish Conservative MEP Struan Stevenson added: "I appeal to the Faroes and Iceland to see sense and come to a reasonable and sensible agreement that benefits everyone."
Fishermen blockaded a Faroese boat trying to land its catch in Peterhead as a result of the dispute.