North east schools and travel disrupted by winter snow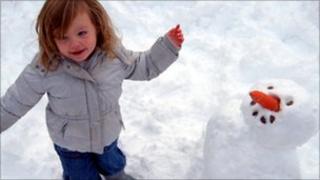 The severe winter weather has again closed the vast majority of the schools and caused travel problems in the north east of Scotland.
An early decision was taken to close all schools in Moray, and 170 were closed or partially closed in Aberdeenshire.
Most schools in Orkney were closed but all of Shetland's managed to open.
The snow has also been causing ongoing problems for offshore industry helicopter flights.
Helicopter operator Bond said there had been "significant disruption" to travel, amid planned offshore crew changes.
Fellow firm CHC said it only had one flight out of 23 on Monday and was likely to complete about 16 out of 35 on Tuesday.
A CHC spokeswoman added: "The hope is to clear the backlog before the end of the week however, weather permitting."
A Bristow spokesman said: "Bristow is acutely aware of the inconvenience caused to the offshore workforce due to the current weather conditions.
"We would like to assure our passengers that as soon as it is safe to operate our normal service will be restored."
A Met Office UK severe weather warning for icy roads is in place for Grampian, Orkney and Shetland.
Many roads in Grampian, especially in rural areas, were said to have "hazardous" driving conditions.
Grampian Police urged drivers to take extra care.
A spokeswoman for Aberdeenshire Council said: "Head teachers are responsible for making the decision as to whether or not a school opens during bad weather.
"The safety of pupils and staff is a priority. The decision to close a school takes account of such factors as weather forecasts, road closures, and whether or not school transport vehicles are operating or not.
"Depending on these factors, it is at the discretion of the head teacher to decide to close the school entirely, just to pupils, or perhaps a partial closure whereby the school remains open to local pupils only."
In Aberdeen, all schools were closed for a second day for in-service days.
Moray Council said about half of the area's primaries and secondaries were expected to open on Wednesday.