Tartan honours Prince William and Kate Middleton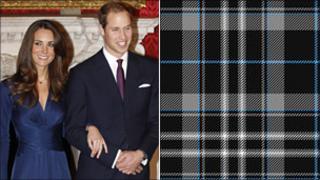 A new tartan has been designed to celebrate the forthcoming wedding of Prince William and Kate Middleton.
Royal Pride has been created by McCalls Highlandwear and blends royal blue, black, charcoal and silver.
The blue is aimed at recalling Prince William's fiancee's dress when they announced their engagement, and her ring, which was Princess Diana's.
McCalls managing director Iain Hawthorne said it was a fitting way to mark such a special occasion.
He added: "Although we'd love Prince William to sport the tartan, he will no doubt be wearing a ceremonial uniform for the service."
The couple will marry on Friday 29 April at Westminster Abbey. They got engaged while on holiday in Kenya in October.
Prince William proposed with his late mother Diana's diamond and sapphire engagement ring.
The wedding day will be marked by a public holiday across the UK.