Ninth day of snow problems in north east of Scotland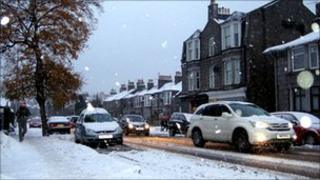 Snow has continued to cause problems on roads in the north east of Scotland for a ninth day, with dozens of schools closed.
Aberdeenshire was again the worst affected area, with only a handful open and 168 shut.
In Aberdeen, 38 schools were closed or partially closed.
Only a handful were affected in Moray after serious closures earlier in the week, and all schools on Orkney and Shetland opened.
Meanwhile, a rescue helicopter from RAF Lossiemouth was called in to airlift a man from the Turriff area to Aberdeen Royal Infirmary.
An ambulance had not been able to get to the man, who had a medical condition, by road.
The snow arrived in the north east of Scotland last Wednesday.
Many schools have now been closed for a sixth day as a result.