Schools in Northern Isles and RAF face snow problems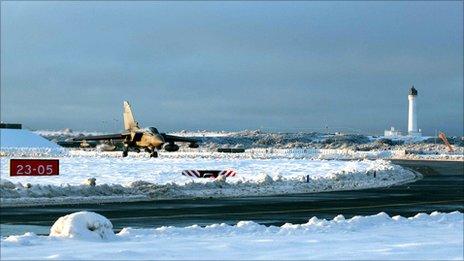 Schools in the Northern Isles have been badly hit by snow, as Moray's RAF personnel also battled to beat the winter elements.
All schools in Shetland were closed after heavy snow overnight blocked many side roads, and main routes were only passable with extreme care.
Many schools in Orkney were also closed, but Aberdeen and Moray escaped the worst effects of the weather.
RAF Lossiemouth crews are working to maintain the base's flying programme.
Wing Commander Steve Ward said: "We schedule flying on the station very tightly.
"Our current priorities at RAF Lossiemouth are 12 Bomber Squadron who are currently preparing for deployment to Kandahar in January to support ground operations.
"We have to ensure that all three squadrons maintain a suitable level of flying hours each month to provide the correct level of training and ultimately operational capability."
Some schools in Aberdeenshire were closed, and dozens had transport problems.
Grampian Police said some roads, especially in northern Aberdeenshire, were hazardous.
It was the 16th consecutive day of winter problems in the area.
It has emerged a third of independent Scottish garage forecourts have been closed after they were unable to receive fuel supplies.
A Scottish government spokesman said extra efforts were being made to ensure supplies of fuel, and food, were delivered.
And the National Farmers Union said milk collection in some parts of the country was now a major issue, with many dairy farmers having to dispose of milk in recent days.
Related Internet Links
The BBC is not responsible for the content of external sites.