Fishermen rescued after Fraserburgh-based boat sinks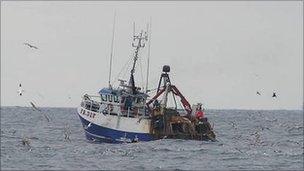 The crew of a Fraserburgh-based fishing vessel have been rescued after their boat sank in rough seas.
Aberdeen coastguard received a Mayday call at 1254 GMT reporting that the 15-metre Esorah was taking in water about 100 miles north east of Aberdeen.
The four-man crew was discovered in a life-raft by the crew of the supply vessel, the Porto Salvo, who took them onboard.
They were then winched to safety by a Coastguard rescue helicopter.
The coastguard said the area was being battered by winds of between 35-40 knots at the time, with waves of up to five metres.
Colin Wood, watch officer at Aberdeen Coastguard, said: "The crew of this fishing vessel were very fortunate they were able to evacuate to their life-raft after making their mayday call, even though they were unable to give any information about their distress situation, they transmitted the most important piece of information, their position.
"Fortunately, there were other vessels not too far away, who were able to get there quickly and get them onboard."
Related Internet Links
The BBC is not responsible for the content of external sites.