Aberdeen bus firm First given warning over services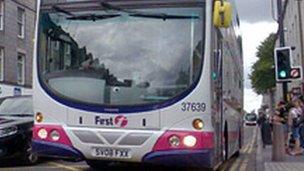 Aberdeen bus company First has received a warning from the Traffic Commissioner for Scotland.
Commissioner Joan Aitken said it followed a slow return to normal service after industrial action in 2009, and late running of services.
It had led to a public inquiry in Aberdeen in April.
Ms Aitken said: "Bus services are not luxury items, they are necessary services for a high percentage of the urban population."
She added: "Great inconvenience and lost opportunities are caused when services do not operate."
First said in a statement: "First in Aberdeen accepts the Traffic Commissioner's decision in issuing a formal warning to the company as a result of the public inquiry.
"Service changes brought into effect across our network of services, first in March and then in October, have significantly improved our punctuality and reliability figures and the service change planned for 9 January 2011 is designed to continue this process.
"To this end we hope that our customers have seen a marked improvement in their service provision over the past nine months and we hope to further improve on this to their benefit going forward."
Related Internet Links
The BBC is not responsible for the content of external sites.