Christmas truces during WWI 'were not one-offs'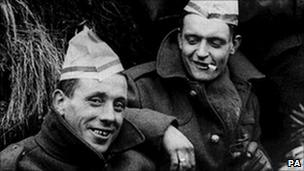 Christmas truces between opposing soldiers continued throughout WWI rather than being a one-off, a historian has claimed.
A seasonal ceasefire, exchange of gifts and carol singing famously took place on the battlefields in 1914.
Dr Thomas Weber, of the University of Aberdeen, says cease-fires continued to take place in 1915 and 1916.
However, the academic believes this was played down when it came to official war records.
Historian Dr Weber claimed that heavy artillery, machine gun, and sniper fire meant truces were small-scale and localised to a greater extent than the events of 1914 and have generally been overlooked.
He said: "The suggestion is that after the first Christmas there was no repeat because of the circle of violence and its ensuing bitterness that then set in.
"In fact, soldiers never tried to stop fraternising with their opponents during Christmas.
"After the battle and after the adrenaline had gone, remorse tended to set in and there are many incidents recorded where soldiers tried to help injured soldiers from the other side.
"It is because of this kind of sentiment that continued Christmas truces were possible."
He said his research included speaking to someone in Canada whose uncle - Ronald MacKinnon - had experienced other WWI truces, and wrote of them in a letter.
He wrote: "We had a truce on Xmas Day and our German friends were quite friendly. They came over to see us and we traded bully beef for cigars."
Dr Weber added: "The letter was a fantastic find and clearly demonstrates that there was an attempt to downplay these small-scale Christmas truces when they happened."
Related Internet Links
The BBC is not responsible for the content of external sites.