Aberdeen's Duthie Park wins £2.5m of lottery funding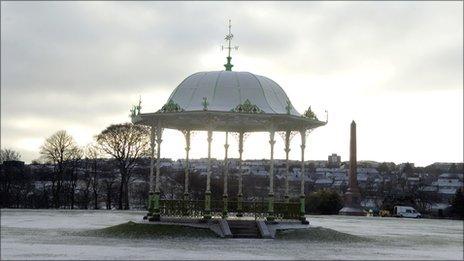 A major redevelopment of Aberdeen's famous Duthie Park is set to go ahead after confirmation of £2.5m of funding.
The Heritage Lottery Fund award will be added to a similar sum already promised by the city council for restoration work at the popular 44-acre site.
The aim is to restore the 127-year-old Victorian park, including the Duthie fountain, to its former glory.
Council leader John Stewart said: "This is excellent news and a tremendous boost for the city."
He said: "It is great that with the help of the Heritage Lottery Fund we now have the opportunity to restore Duthie Park to its former Victorian glory.
"I look forward to witnessing the transformation of the park as the project progresses."
Colin McLean, head of the Heritage Lottery Fund in Scotland, added: "This is good news not just for the individuals that have worked hard to develop this project but for the hundreds of thousands of people that use and treasured Duthie Park.
"Our parks are a wonderful legacy from our ancestors which are enjoyed by all ages and are often a community's only available green space for recreation and leisure."
Duthie Park, opened in 1883, attracts hundreds of thousands of visitors every year.
Meanwhile, the lottery fund has also given initial support for multi-million pound grants to breathe new life into Rouken Glen Park on the outskirts of Glasgow and Wilton Lodge Park in Hawick.
Rouken Glen Park is one of Scotland's largest parks and lies only six miles from Glasgow city centre. It is recognised for its geological and archaeological importance, including features such as a cup and ring marked rock dating from the Neolithic or Bronze Age period.
Wilton Lodge House, which stands in Wilton Lodge Park, is used as the Hawick Museum and Scott Gallery and receives about 12,000 visitors every year.
Each project now has up to two years to submit fully developed proposals to compete for a firm lottery award.
Related Internet Links
The BBC is not responsible for the content of external sites.