Aberdeen City Council staff reject 5% pay cut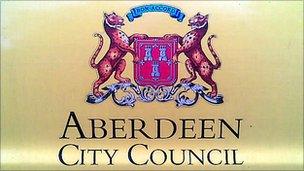 Unions in Aberdeen have rejected an appeal by the city council for staff to accept a 5% pay cut.
The Lib Dem/SNP administration said the move would reduce the need for compulsory redundancies as the authority looks to cut about 900 jobs.
The authority wanted workers earning more than £21,000 a year to take a voluntary one-year 5% cut in their pay.
Aberdeen City Council last week approved plans to cut £120m from its budget over the next five years.
After a meeting of staff to discuss the pay cut, Sarah Duncan of the Unison union said: "Nobody spoke up in favour of entering any discussion on the detail.
"I think that is largely because they know by taking a 5% pay cut they won't actually save a single job.
"The council pretty much confirmed that they will still press ahead with 900 full-time equivalent job cuts."
Before the meeting, council leader John Stewart told BBC Scotland: "We've already had three rounds looking for voluntary severance or early retirement, and we do have savings to make.
"We've estimated that around 900 jobs are going to have to be lost from the organisation.
"The city council is working to a five-year plan. We've decided that just working from year to year is inappropriate, given the challenges the public sector faces at the moment."
Related Internet Links
The BBC is not responsible for the content of external sites.