Police catch 23 drink-drivers in Grampian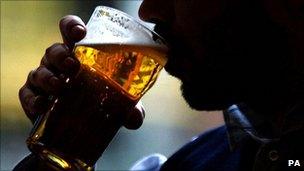 More than 20 people have been caught drink-driving in Grampian over the festive period, police have said.
A total of 23 drivers - 20 men and three women - have so far been caught during the first two weeks of a clamp down.
Four were involved in road accidents and one was reported by a member of the public.
Grampian Police Ch Insp Ian Wallace, head of road policing, urged others not to take the same risk.
He said: "These 23 drivers now face unwelcome Christmas gifts in the form of a potential driving ban, a monetary fine and will likely have a drink-driving conviction on their licence for many years to come.
"They may also face other social consequences, such as difficulties with their employment, facing higher motor insurance premiums in the future and the stigma of being a convicted drink-driver.
"Driving in the current wintry conditions are challenging enough for sober drivers, so to attempt to drive under the influence of alcohol is absolute folly."
He warned: "Drivers should be aware that despite the poor driving conditions, officers are still on patrol, still looking for offenders and that will continue to occur despite whatever the challenges the weather may throw at us."
Related Internet Links
The BBC is not responsible for the content of external sites.