Shetland and Orkney face snow problems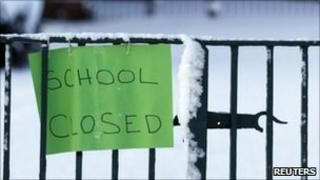 Almost half the schools across Shetland were closed because of wintry conditions and Orkney also faced weather problems.
Sumburgh and Kirkwall airports were closed in the morning to allow the runways to be cleared of snow.
The most snow fell in Orkney, but only one school - Rousay - was closed. All main routes were passable but there was some drifting snow on side roads.
The Met Office later issued a warning of heavy snow for much of Scotland.
It was predicted for Aberdeen, Aberdeenshire, Central Tayside and Fife, Dumfries and Galloway, Lothian and Borders, East Ayrshire, East Dunbartonshire, East Renfrewshire, North Lanarkshire and South Lanarkshire.
Fifteen of Shetland's 34 schools were shut and buses were also disrupted.
Police said the A835 Ullapool to Braemore road in Wester Ross was affected by snow.
In Badenoch and Strathspey many roads have also been affected by black ice.
Salt supplies
Northern Constabulary said the A95 and B970 were the worst affected.
Meanwhile, more than 25,000 tonnes of salt have arrived in Scotland to help the country cope with the wintry weather.
The Scottish government said a further 42,000 tonnes is expected in the coming days.
It will be shared across Scotland.
Transport Minister Keith Brown said: "Last December we faced the second coldest month since records began, and we remain prepared as these salt deliveries demonstrate."