Police safety fears over new Aberdeen football stadium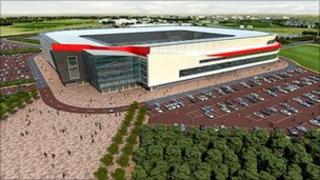 Safety concerns have been raised over the traffic risk for fans walking to a planned new stadium in Aberdeen.
The Dons hope to build the stadium, capable of holding about 21,000 people, at a cost of up to £40m, at Loirston Loch in the south of the city.
A hearing into Aberdeen Football Club's plans is due to take place next week.
It will be told of Grampian Police concerns that fans walking to the games could be at risk from traffic. The club would not comment ahead of the hearing.
AFC is seeking planning permission for the "iconic" stadium which would include a gym, a club shop, museum and cafe.
The application follows a public consultation.
Next week's pre-determination hearing by the city council's development management sub committee is expected to hear the police concerns.
The force is worried about pedestrians, some of whom may have been drinking, walking close to the Wellington Road dual carriageway.
Red glow
They also say a temporary speed limit of 30mph should be considered immediately before and after any events at the stadium, stating that a person hit at 40mph is likely to be killed.
After the hearing, the application will be scrutinised and a report will be prepared for consideration by the city council.
The plan is for the whole facility to be lit by a red glow at night.
AFC chief executive Duncan Fraser previously said: "The exciting design will create a modern, atmospheric stadium that offers the ultimate match-day experience."
He said the move signified the "clear ambitions of the club".