Petition lodged over Donald Trump objection homes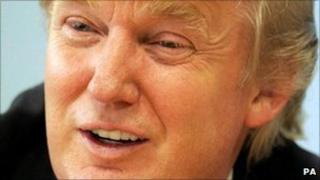 Families worried they could lose their homes to the Donald Trump golf development have lodged a petition calling for tightened planning laws.
Five homeowners fear they could eventually be evicted as the billionaire looks to secure more land on the Menie Estate in Aberdeenshire.
The petition has been lodged at the Scottish Parliament.
Work on Mr Trump's golf course development got under way in July last year.
Some residents object to the project, and have refused to sell their land.
One of these affected, David Milne, said: "We are urging MSPs of all parties at Holyrood to do what they can to tighten up the planning system."
Many opponents of the development have bought a stake in a one-acre stretch of land at the heart of the resort site in a bid to disrupt it.
US tycoon Mr Trump hopes to build the "world's greatest golf resort" at Menie, north of Aberdeen.
The billionaire has said the total cost of the project is likely to be about £750m.
As well as a championship golf course, the development includes a 450-room hotel, 950 holiday apartments and 500 residential homes.