Search continues for missing Elgin teenager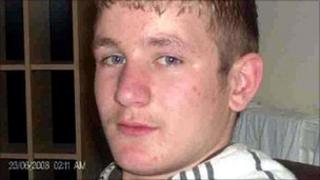 Police are continuing their search for a teenager who has been mysteriously missing in Moray since Hogmanay.
Aidan McPherson, 19, was last seen in Elgin on 31 December after leaving a party.
Grampian Police said they had had a "good response" from the public after revisiting the Newmill Road area exactly a week after he was last seen.
They have also been conducting house-to-house inquiries and searching wasteground in the area.
Mr McPherson's disappearance is said to be totally out of character.
Det Sgt Alan Armit said: "A large number of questionnaires were completed by officers in the Newmill Road area on Friday night in an effort to gather more information on Aidan.
"We have had several sightings by people in the Newmill Road area and we would ask the public to come forward with any information they have got."
He added: "A significant amount of door-to-door inquiries were made on Friday night and this will continue on Saturday evening."
A team of search-trained officers have also been combing wasteground areas to the north of Elgin from Newmill Road.
Fresh appeal
Meanwhile, Grampian Police renewed their appeal for a woman in her 20s, who was seen talking to Mr McPherson on Newmill Road at about 2340 GMT on Hogmanay, to come forward.
The woman - spotted near the junction of Calcots Road - was said to be wearing a white jacket with a furry hood, light-coloured jeans and knee-high boots.
She was also carrying a black handbag.
Police said a Facebook page set up by Mr McPherson's family to encourage the public to contribute information had already attracted more than 100 followers.
Mr McPherson is described as being about 5ft 5in tall, of slight build, with short, fair hair.
When last seen, he was wearing a dark jacket and jeans.